PHYLLIS J. BRONSON
BIOCHEMICAL CONSULTING COMPANY
BIOCHEMICAL RESEARCH FOUNDATION
(970) 920-2523
Phyllisbronsonphd@me.com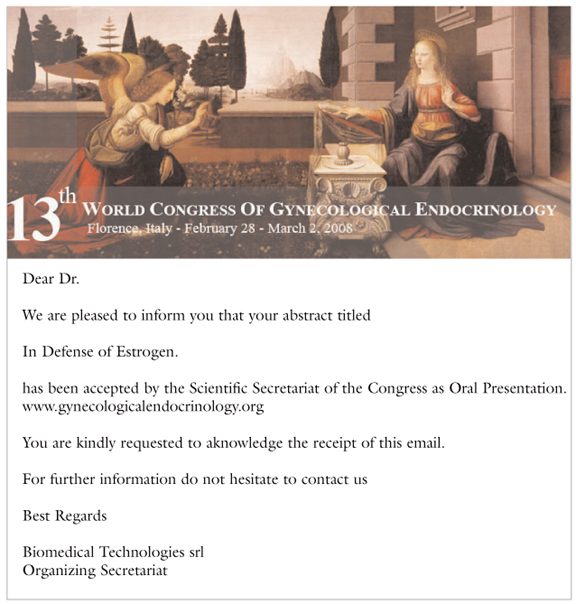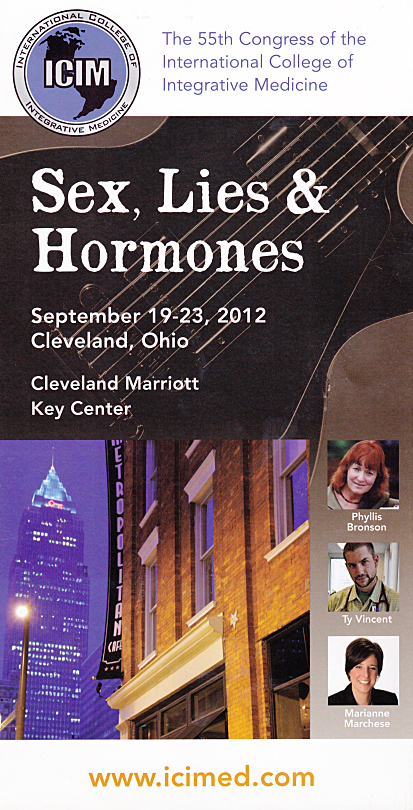 Dr. Bronson, will be speaking at the
International College of
Integrative Medicine (ICIM) Conference
in Cleveland, OH, September 18-23, 2012.
The title of the meeting is
"Sex, Lies and Hormones"
Saturday, September 22 at 3:30PM
Phyllis Bronson PhD Hormones, Mood and Emotion: Finding Balance as We Age

Dr. Bronson's original research defined the molecular difference between real progesterone and synthetic progestins promoted by the pharmaceutical companies, and the connection to mental health. Based on this scientific information, it is now clear why women have responded badly to synthetic hormones.
THE MOODS OF WOMEN:
BOOK READING & INTERVIEW WITH PHYLLIS BRONSON
Friday, December 13th • 5:00pm
Join us at the Woody Creek Community Center on Friday, December 13th at 5:00pm for a evening with Phyllis J. Bronson, Chris Martinez, M.D., and Paul Andersen. Paul Andersen will interview Phyllis on her new book, written with Rebecca Bronson, entitled, Moods, Emotions, and Aging: Hormones and the Mind-Body Connection. Her book explains the vital link for women between hormones, mood, and wellness. Copies of her book can be purchased at Amazon.com and at Explore Booksellers in Aspen, and at the Woody Creek Community Center the night of the event. Read more about her book here. The event is free for members, and there is a suggested $10 donation for non-members. Visit www.woodyc3.org to become a member and for more information about this and other WC3 event.

43rd Annual International Orthomolecular Medicine Today Conference
April 25-27, 2014
Fairmont Hotel Vancouver,
British Columbia

Experience the best education for health care professionals in many areas of Orthomolecular Medicine at our 43rd Annual International Conference. Thirteen internationally known physicians and researchers will present five sessions over three days on current advances in orthomolecular psychiatry, oncology, cardiology, endocrinology and general medicine. Conference Speakers Include:
Phyllis Bronson, PhD
Ronald Brown, MD
Aileen Burford-Mason, PhD
Paul Demeda, CNP
Balz Frei, PhD
Joseph Gabriele, MSc, PhD
Patrick Holford, BSc, Dip ION
Ben Lynch, ND
Laurie Mischley, ND
Jonathan Prousky, MSc, ND
Michael Schachter, MD
Alexander Schauss, PhD
John Thoreson, BSc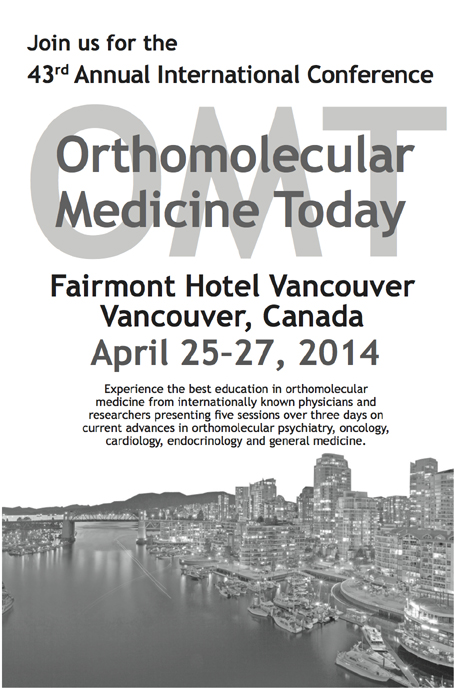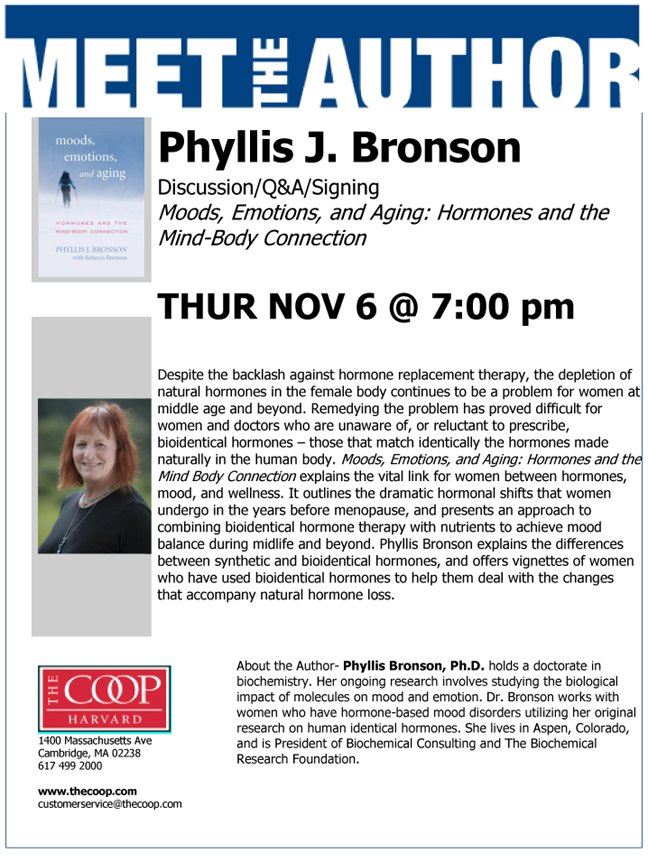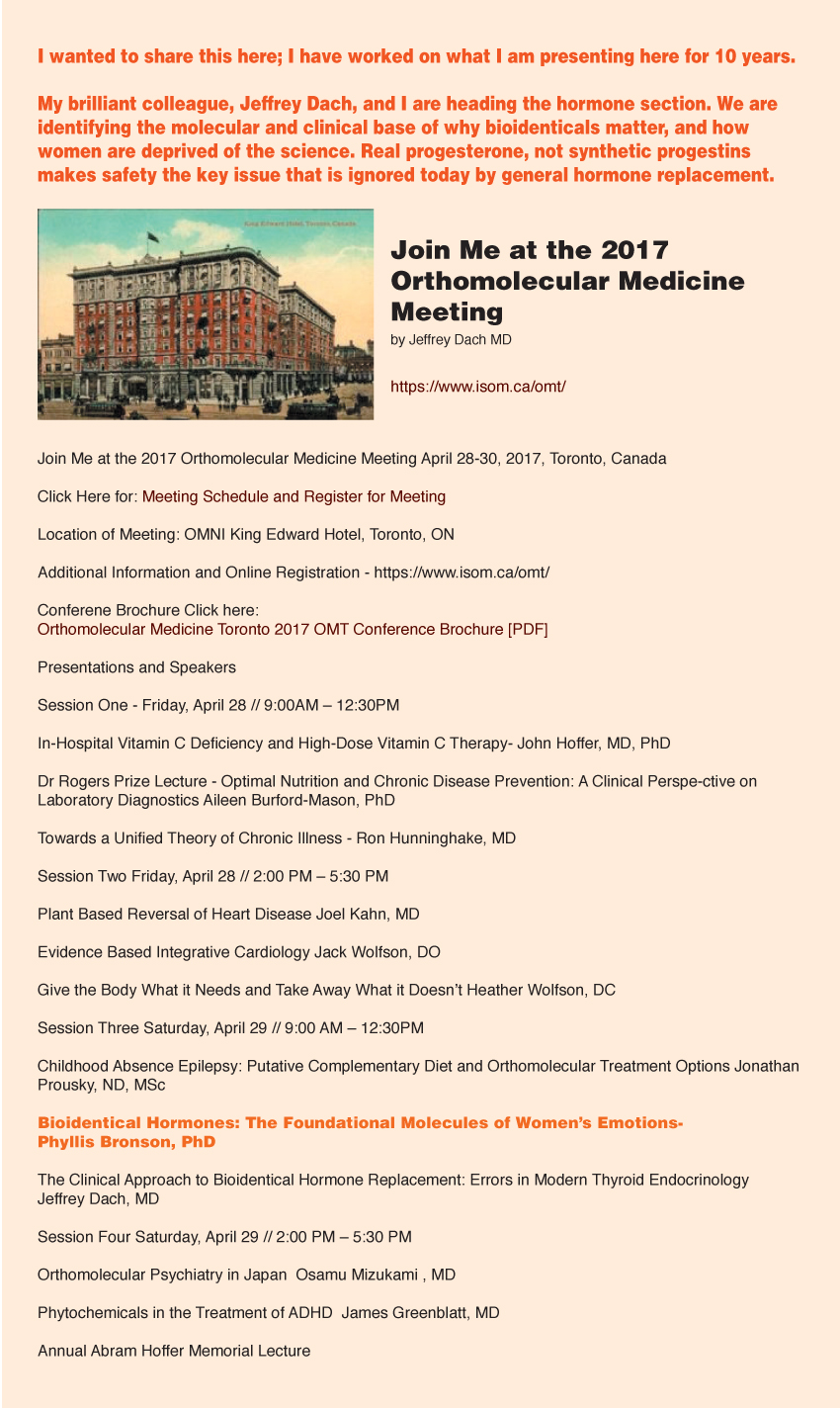 Join Me at the ICIM Meeting in Cincinnati in
April 2018 by Jeffrey Dach MD
Come to the ICIM Meeting in Cincinnati !!

Join me, Phyllis Bronson PhD, Elizabeth Vaughan MD, Karen von Merveldt-Guevara MD and many others: What Works to Achieve Hormone Balance? on April 17- 22, 2018 - ICIM International College of Integrative Medicine at the Kingsgate Marriott Conference Center, Cincinnati, OH. 45219

Click here for details: https://www.eventbrite.com/e/what-works-in-clinical-medicine

Main Congress: ICIM Cincinatti 2018

Resource people Jeffrey Dach MD, Karen von Merveldt-Guevara MD, Phyllis Bronson PhD, Hal Blatman MD, Barrie Tan PhD, Lou Diorio RPh, Dan Nelson MD, and Bryan J. Treacy, MD are on the agenda to present evidence about what works for hormone balance, manual medicine, controversies in nutritional supplementation, office compounding, and opioid addiction recovery.

Plus, we'll hear updates on Ozone with Frank Shallenburger MD, cord blood live cells therapies with A.J Farshchian MD, and an exciting lecture from Joel E. Mortensen MD, Director Diagnostic Infectious Diseases Testing Laboratory, at the Cincinnati Children's Hospital Medical Center: The future of flora analysis - culturomics to metagenomics. Above quote and Header Image Courtesy of ICIM